I don't like to think of myself as being old, but when I look at how education has changed since I attended school, it certainly makes me feel old! Times certainly have changed, especially with technology.  Technology allows us to connect in ways that before, where not possible.  As a middle school, our Literature teachers decided to participate in the Global Read Aloud (GRA) 2015 that is connecting us with students across the globe.
The premise of the Global Read Aloud is simple.  Teachers read aloud to their students for a set 6-week period the same book  (Fish by L.S. Matthews). During this time, classes make as many global connections as possible. GRA originated in our very own Wisconsin! Pernille Ripp, a 7th grade teacher teaching in Oregon, Wisconsin started this project in the summer of 2010 because she wanted to expand her global collaboration and make the world a little smaller.  She had a desire to open students' eyes to the rest of the world and look at shared experiences. Since this time, the GRA has expanded.  The map below includes only one marker per state or country participating in the 2015 GRA.  If all participants were included, the map would contain over 9000 different markers!
[googlemaps https://www.google.com/maps/d/embed?mid=zfq7xf-XR45I.koxn5ftEsOQU&w=640&h=480]>
So far, our very own middle school students have made connections with Ontario, Canada, New Zealand, and Texas.  Being able to connect with others around the world about a shared book that is being read has been an exciting experience for students and staff alike. Being able to share perspectives, ask each other questions, and "see" each other via Skype or other media has been a new adventure. As a result, the world is a little smaller.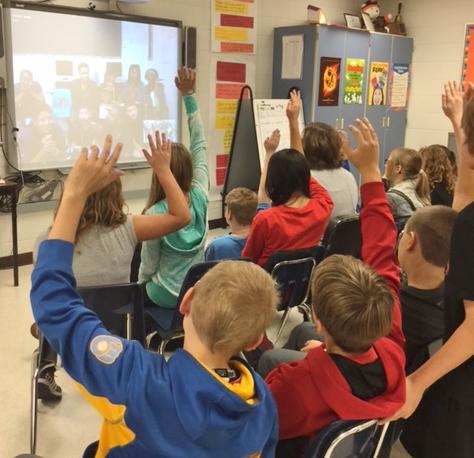 Making a Connection with Texas
I'm grateful that the literature teachers have taken the time to connect their students to people and places unbeknownst before this experience. Watching teachers step outside of their comfort zone, expand their repertoire of instructional strategies, and give students a multidimensional insight into the book Fish has been fun to witness.
Sherri Stengel